SHUBHKARAM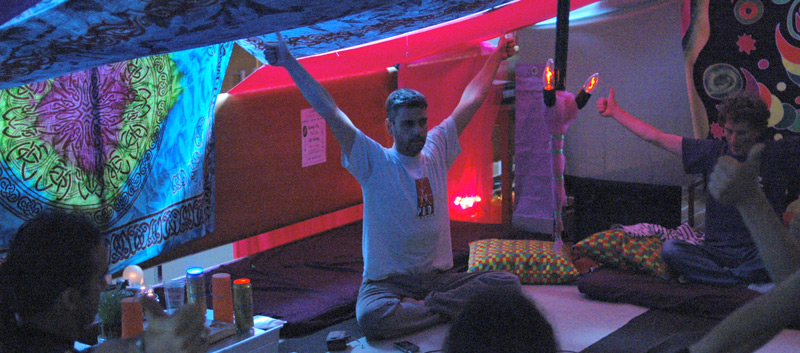 English :


Go into a journey to explore your inner self. Through Yoga and Breathing, you will go into a consciousness expansion journey. Ronald and his association Lemniscate propose :
- Training courses : discover the relationships between our body, our emotions and energy.
- Conference : States of consciousness ; Trance inducted by music, Dancing and breathing; Informations about drugs and their effect on our mind and nervous system.

Francais :


Partez à la découverte de vous-même, expérimentez comme un explorateur grâce au Yoga, la respiration, les expansions de consciences. Ronald et son association LEMNISCATE vous propose des stages de travail sur soi, pour une meilleure connaissance des relations entre notre corps, nos émotions et leur liens avec l'énergie.
Des conférences sur les états de consciences et la transe induite par la musique, la respiration et la danse. Une information sur l'impact des drogues sur notre systême nerveux et notre conscience.



SHUBHKARAM Agenda
Date
Event
Artists
Location

+

2011

+

2010

+

2009

+

2008

+

2007

+

2005
SHUBHKARAM Release
Date
Title
Artists
Category
23/11/2011
News Teratone Wallpaper
HOMEOSTASYS, IKAR, KWISATZ, LANKOO, LUX, MIZOO, PROFESSOR M, PSYGANA INVASION, REMYSH, SHUBHKARAM, SOYOUTH, T-Vision, YOG
PHOTO
01/06/2008
Fabrik 2008 video 2
Akmyth, Anarkotic, Filtrostructures, IKAR, PROFESSOR M, PSYGANA INVASION, SHUBHKARAM, SOYOUTH, T-Vision, YOG
VIDEO
31/05/2008
Fabrik 2008 video 1
Akmyth, Anarkotic, Filtrostructures, IKAR, PROFESSOR M, PSYGANA INVASION, SHUBHKARAM, SOYOUTH, T-Vision, YOG
VIDEO
English :

To enrich and complement his work as an ostheopath (practising since 15 years), he got interested into body symbolic and psychology, to its various pathologies as well as to the complexity of a human being, on the physical, energetic and emotional levels. He has studied various martial arts and their philosophy (Aïkido, tai-chi...). He is now practicing and teaching several types of Yoga. His approach is making use of "non-ordinary states of consciousness".

Being a musicien, he naturally wonders about resonances between body and music, be it in sacred music, traditional trance musics (moroccan gnawa...) or electronic music. Because sound is a vibratory reality that touches the individual on various levels (body, heart, consciousness), music is taking each of us in one's particular bodily expression. He proposes various classes and workshops based on posture, breathing and motion, inspired by a wide repertoire of music. He will lead each participant to carefully listen to their body and mind. There are no requisites for this kind of workshop, that will lead each person to develop a better knowledge of himself and new relationship towards others and the world.



Francais :


Pour compléter et enrichir son travail d'ostéopathe (qu'il pratique et exerce depuis 15 ans), il s'est intéressé à la psychologie et à la symbolique du corps, à ses pathologies ainsi qu'à la complexité de l'Etre sur les plans physique, énergétique et émotionnel. Il a étudié également les arts martiaux et leur philosophie (Aïkido, tai-chi...). Aujourd'hui il pratique et enseigne différentes formes de yoga. Il fonde son approche sur une recherche des « états non-ordinaires de consciences ».

Musicien par ailleurs, il s'interroge naturellement sur les résonances entre corps et musique tout en s'appuyant sur les musiques sacrées, les musiques de transe traditionnelles ou électroniques. Parce que le son est une réalité vibratoire qui touche l'individu sur plusieurs plans (le corps, le coeur et la conscience), la musique entraîne chacun dans une expression corporelle qui lui est propre. Il propose ainsi un travail basé sur les postures et la respiration, le souffle et le mouvement, Inspirés par un répertoire de musiques du monde, il amènera les participants à l'écoute de leur corps et de leur conscience. Ce stage accessible à tous permettra de développer une meilleure connaissance de soi et une nouvelle relation aux autres et au monde.